**COMING SOON**
The new Hanger Mark* add-on for all Senox Barracuda gutter machines is an innovative way to help you spend less time on your current job so you can get to the next one. Now instead of having to measure and mark your hanger intervals by hand, your gutters come off the machine already indented on the inside back at 8" intervals to indicate proper hanger placement. It literally could not be any easier! Your clients will never see it, but you'll see big returns since time = money. *Patent Pending
Hanger Mark
---
Polyurethane Drive Train
Eliminates the need to load coil prior to transportation (less material waste)
Eliminates slippage from cold weather and condensation
.002 Hard Chrome Plated Steel Forming Rollers
Rollforms all standard metals with minimal or no adjustment
Free-floating forming rollers produce less pressure and allow for more product uniformity
Electrical and Control System
Push button control safety wiring
Entrance and exit control selector switch jog run
3/4 HP, 110 volt, single phase motor, 13.6 amps
Warranty
3 Years Parts and Labor
1 Year Electrical
Structural Steel Frame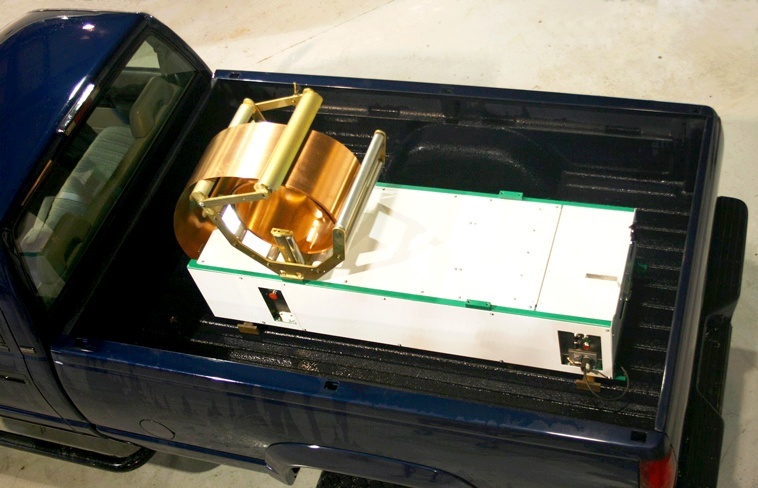 Saving More than Space
5", 6" and 5/6" combo machines fit in a half-ton 8' pickup bed or van. Eliminates the need for a 3/4 or 1 ton vehicle, extended van, or trailer.
Light weight reduces transportation costs
Produces the same high quality and accurate gutters as full sized machines.
Purchase a Seamless Gutter Machine from Senox
---
As a gutter contractor, your seamless gutter machine is the most important piece of equipment you own. Senox understands this and is dedicated to your complete satisfaction throughout the buying process. Our experienced staff will help you select the right machines and set-up options to ensure you are matched with the perfect machine for your application. Senox will perform a complete inspection and setup for each machine prior to delivery. Senox will also mount your machine for free on a trailer or in a truck. Our staff of expert machine technicians will walk you through all operating procedures and answer any maintenance question you may have. Senox service doesn't stop after the sale. We have regularly scheduled machine maintenance and adjustments at our Senox branch locations. When you buy from Senox, you know you've selected the best equipment, service and support in the industry. Contact us today for more information and a free quote.
5" Machine
Gutter Machine Information Request
A Senox representative from your nearest branch will get back to you with a quote.
---
End Plate Front Pull Guillotine Full Coil Cradle Upright Turnstile Spool With Shaft Standard Run Out Stand
Deluxe Run Out Stand Transfer Bar Set Machine Stand Riser Pad Spin Coil Cradle Side Roller Assembly Extension Cord
X